Testing of Anti-microbial Dressings

| | |
| --- | --- |
| ● | Microbial Transmission Test (1) |
| | |
| --- | --- |
| ● | Zone of Inhibition Test (1) |
References

| | |
| --- | --- |
| 1. | Thomas & McCubbin A comparison of the antimicrobial effects of four silver-containing dressings on three organisms J of Wound Care 2003; 12[3]; 101-107. |
2.


Strohal R

et al.,

Nanocrystalline silver dressings as an efficient anti-MRSA barrier: a new solution to an increasing problem.

J Hosp Infect.

2005; 60(3):226-30.

3.


Edwards-Jones V. Antimicrobial and barrier effects of silver against methicillin-resistant

Staphylococcus aureus.

J Wound Care

. 2006;15(7):285-90.

4.


Gallant-Behm C.L.

et al.,

Comparison of in vitro disc diffusion and time kill assays for the evaluation of antimicrobial wound dressing efficiency Wound Repair and Regeneration 200513[4]; 412-417.
General Anti-microbial Testing

| | |
| --- | --- |
| ● | We undertake standard anti-microbial test including:- assessment of Minimal Inhibitory Concentration (MIC) and Minimal Bacteriocidal Concentration (MBC) |
Models of wound Infection

We undertake pre-clinical studies to investigate the impact of anti-infective therapies on infected wounds. Further Information on request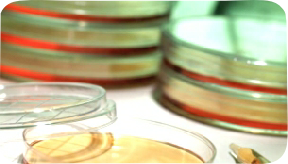 Pre-clinical Research - Anti-Microbial Efficacy Testing
Back